Key Creation or Duplication - $59.95 per set of two keys
Price Includes FREE FedEx Overnight Shipping!

If your lock or key does not have a lock code stamped on it, send it to us and we will make duplicate set of two keys for you.

Now you can avoid the cost and inconvenience of a locksmith visit, simply send us your lock and/or key and we will send back a set of two working keys along with your lock at a fraction of the normal locksmith cost.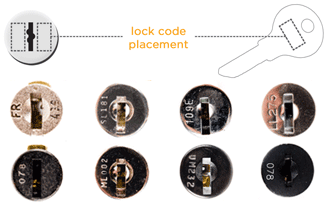 How it Works
1. We email you a FedEx label.
2. You ship us your key and/or lock.
3. We ship your set of two keys and/or lock back to you.
Having trouble removing your lock from your furniture?
Here are some guide lines on how to remove it:
Look behind where your lock is located. Behind the lock there is usually two screws, or one screw directly located in the center of the latching handle, or one clip surrounding the entire lock from behind holding it in place. If you remove those screws or the clip, the cam lock will slide out from either the back or the front. Just make sure you take at least one picture of what the lock looks like from the back with the latches attached so that when it comes time to put it back into place you remember how.